Television watching habits are changing around the world and the world of sport is no exception. As consumers increasingly use internet-based streaming services to discover new content that matches their personal tastes, all sports have an opportunity to reach new audiences by making their content available online.
Several major leagues and associations are believed to be creating over-the-top (OTT) streaming platforms to reach online viewers, but in late March, LaLiga became the first major European league to launch such a service. However, the LaLigaSportsTV platform is not primarily designed for football.
Instead, the service will provide free coverage of over 20 sports from across Spain, offering these competitions a new platform to be discovered via mobile, tablet or smart TVs around the world.
"The aim is to offer less high-profile sports greater and improved visibility via a platform where content is quickly and easily accessible, allowing fans to enjoy their favourite sport wherever, whenever and however they want," LaLiga President Javier Tebas explained.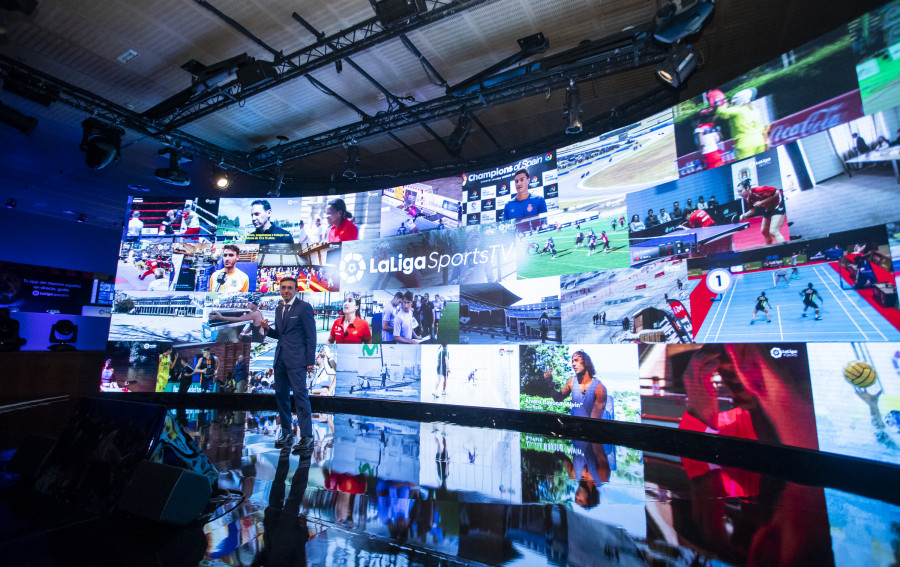 The idea behind the new platform can be traced back to 2016, when LaLiga introduced its LaLigaSports project in collaboration with the Spanish High Council of Sports. Working to support the other 64 sporting federations in Spain, LaLiga provides consultancy to other sports on how to achieve growth, including through audiovisual content.
As these sports receive limited or no placement on traditional TV channels, LaLigaSportsTV gives the likes of badminton, handball or water polo a much larger potential audience than was previously possible.
For international users, the app is available in eight languages (English, Spanish, German, French, Italian, Portuguese, Russian and Indonesian) for smartphone and tablet, while the smart TV service can be accessed in English and Spanish. Where local rights allow, users will be able to watch matches from their favourite sports via a catch-up service.
"As an entertainment provider, it is crucial that we understand the different ways we can reach our fans," said Joris Evers, Chief Communications Officer at LaLiga. "Just as the major American leagues have already done, we think it is also important to have first-hand experience in the OTT space. We are proud to be the first major European football league to launch an OTT service and to be pioneers here."
As well as benefiting from LaLiga's audiovisual expertise, federations will also be able to pursue their own commercial initiatives through LaLigaSportsTV. Using the platform, they will gain a better understanding of consumption habits, with a view to developing improved commercialisation strategies and sponsorship offerings.
Ease of access is a very important aspect of LaLigaSportsTV and there is a simple and accessible interface, featuring native applications, cloud-based HD content, the ability to customise content for both live and on-demand services and search tools. Whether fans are looking for live broadcasts or highlights, discovering new content is simple.
A fortnight ago, @LaLiga launched its new OTT service, LaLigaSportsTV; the first of its kind to be offered by a major European league. @jorisevers, LaLiga's CCO shared his ambition to improve the broadcast product for the league at #LeadersWeek 2018 pic.twitter.com/Us8gBODc5r

— LEADERS Business (@LeadersBiz) April 11, 2019
Already there are channels dedicated to American football, badminton, basketball, boxing, canoeing, futsal, gymnastics, handball, hockey, motor racing, snooker, superbike, table tennis, triathlon, virtual LaLiga eSports, water polo and weightlifting. In the near future there will also be channels for Basque pelota, cycling, fencing, mountain climbing, pétanque, and sailing as the platform evolves. Sports without a dedicated channel will also be covered via a general channel.
Of course, there will still be some football available via LaLigaSportsTV, with highlights, pre-match and post-match interviews and an international catch-up service covering LaLiga Santander and the Liga Iberdrola women's competition. All of this is free, while Spanish viewers can also subscribe to LaLiga 1|2|3 broadcasts, the kind of which are already available in many countries outside of Spain on YouTube.
However, the primary objective of the new OTT is to bring long-term benefits to many Spanish sports federations. The more each sport is consumed, the better the offering will become, whether through improved sponsorship deals, additional motivation or increases in participation.
"With LaLiga's new OTT, we're convinced that rugby and the rest of the sports will enjoy greater visibility, which will also help our federations when it comes to securing new sponsors," Paco Hernández, the captain of Spain's rugby sevens team explained.
"LaLigaSportsTV is a platform that will bring about a digital transformation and will offer exposure to the work carried out by each of the Spanish sporting federations," added Jose Hidalgo, President of the Spanish sports association.
©

LaLiga

- Año 2019