Football has the ability to inspire audiences around the world, but with this huge popularity comes responsibility. Those involved in the sport are aware that they need to lead by example on and off the pitch, making transparency, integrity and the culture of compliance very significant.
In order to help clubs and individuals with this, LaLiga recently organised a Compliance Day at Atlético Madrid's Wanda Metropolitano stadium, holding several different round tables to instruct attendees on the compliance sector and on the latest best practice.
Achieving good compliance depends on many factors. During the event, details were given about the joint efforts of LaLiga and public institutions, on the global situation with regards to information security, new data protection laws, social responsibility as it relates to non-financial information, diversity and much more.
Several expert guests were on hand to deal with these sometimes-complex subjects, such as LaLiga Integrity and Security Officer Iñaki Arbea, the Spanish Cybersecurity Institute's Coordinator for Businesses and Professionals Marco Lozano, Technology and Communication lawyer Xavier Ribas and LaLiga's Corporate Projects Director David Baixauli.
"LaLiga has a responsibility to have good governance and transparency, given that football makes up 1.37% of Spanish GDP," league President Javier Tebas said as he opened the event. "If fans stop trusting us then we'd return to the 0.7% of five years ago. Investing in compliance and transmitting confidence, credibility and trust is profitable."
Los empleados del #LevanteUD hemos recibido una sesión formativa del Compliance. @LaLiga pic.twitter.com/hzlMWPIueU

— Levante UD (@LevanteUD) May 18, 2018
Transparency regulations are something that Spanish football clubs have had to increasingly adapt to in recent years and club directors are aware of the positive benefits such oversight can lead to. "It's a really good initiative to bring greater transparency and better management to professional clubs and to the league," commented Lidia Navarro, compliance officer at RCD Mallorca. "All improvements in business management are positive and since the world of football has such a great social, labour and media impact, it is vital that these measures are coming in."
Pablo Albert, compliance officer at AD Alcorcón, agreed with this assessment, adding: "This implementation has really helped show all employees of the club – from footballers to coaches to managers to administrators – the importance of fully complying with legal rules and ethical norms. There is now a culture of compliance and this shows that the club's intention is for all employees to fully commit to this."
Albert went on to praise LaLiga for leading the way in this field. "These rules have shown all sectors and traders that LaLiga is a pioneer in the fight against illegal actions," he said. "We are seeing that LaLiga is fighting against fraudulent behaviour and anything that threatens the integrity of the competition."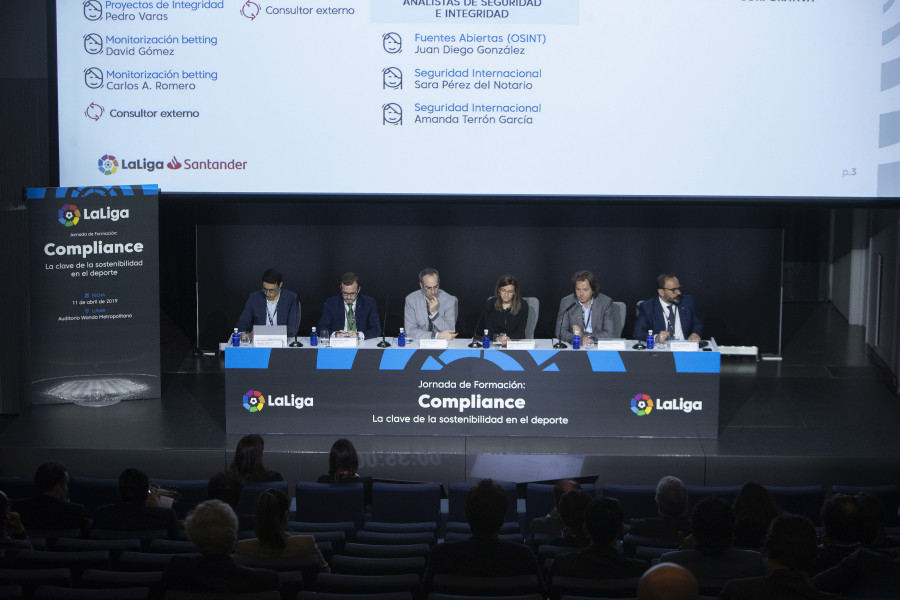 Noelia Romero, compliance officer at FC Barcelona, explained why this role is now becoming a norm at Spanish clubs and the value that this position holds. "We play a key role as the second line of defence of the institution," she said. "The compliance officer is a key figure in terms of ensuring that risks, especially legal and reputational risks, are limited.
"Compliance models not only provide peace of mind to those involved in governance, but also to the employees and the legal entity. Above all, they help mitigate the kind of reputational risk that the world of football is constantly subjected to."
Underlying the entire day's events was a single key word: trust. If fans and those interacting with the world of football can trust the clubs and organisations that they are dealing with, the sport will continue to thrive. Good compliance, therefore, is central to the successful future of football.
"We want to be leaders and there are great demands that come with that," Tebas concluded. "We won't allow something like what happened with FIFA to happen here."
©

LaLiga

- Año 2019