On January 31, LaLiga President Javier Tebas appeared at a Europa Press event attended by LaLiga clubs, leading figures in Spanish sports, presidents of several sports federations, as well as a large media contingent. During the session, Tebas presented a global update on LaLiga's growth, illustrating why it has emerged as a major player in the worldwide leisure and entertainment industry.
Economic impact: Producing 1.37% of Spanish GDP
Since the 2012/13 season, professional football's impact on the Spanish economy has evolved significantly. LaLiga now has a turnover equivalent to 1.37% of the GDP (Gross Domestic Product), according to the latest Economic Impact Report published by PriceWaterhouseCoopers (PwC).
This report also reveals that professional football employs 0.98% of the working population in Spain. "Any decision we make at LaLiga requires a great deal of prior consideration, since many jobs depend on it," explained Javier Tebas.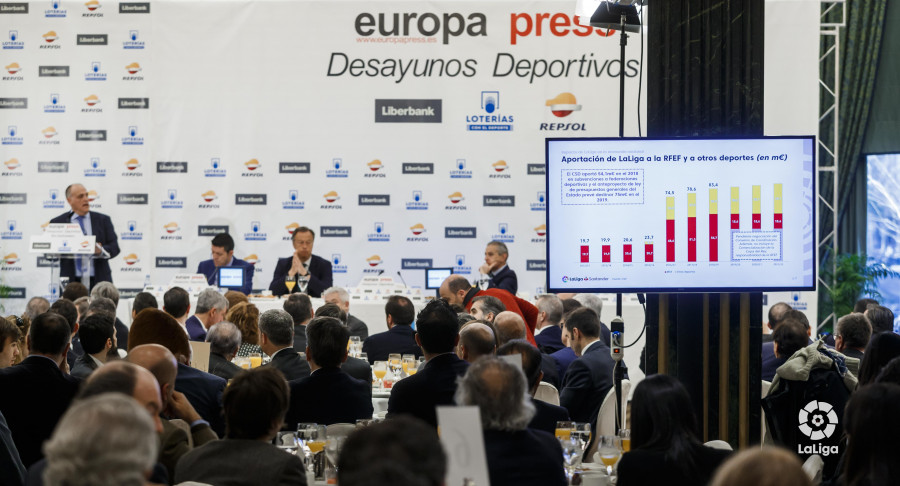 In addition, professional football clubs have seen their contribution to the Spanish treasury in recent seasons surge from €876.1 million in the 2014/15 season to €1.314 billion in the 2018/19 season, with the figure of €1.478 billion forecast to be reached in the 2019/20 season, between corporate and workers' taxes (IRPF).
Out of all of its exported industries, football is Spain's biggest net contributor through its television broadcasting rights revenues. For the next five years, it is estimated that LaLiga will contribute more than 95% of Spain's net exports. Furthermore, the value of the international sponsorship for LaLiga, clubs and players is estimated to exceed €300 million per season.
"Only 42 Spanish companies contribute similar amounts to the state treasury. We're an industry, we symbolize growth and we help cities grow. Which is why we need to take good care of our product," Tebas continued.
Another indicator of LaLiga's commitment to Spanish sport is the contribution it makes to both the Spanish Football Federation and other sports, an amount which exceeded €80 million last season.
Global growth: television audience of 3 billion
Spanish professional football has grown around the world in recent years, particularly by drawing in new fans from outside of Spain. As Tebas said: "The fans are the people who go to the stadium, but they're also the people who watch the game from anywhere around the world. They pay too, and as a result they form a key part of our industry."
The President went on to reveal that worldwide television audiences for LaLiga have grown from 1.2 billion in 2014/15 to 3 billion in the 2017/18 season. "Any potential changes could alter the pace and the trajectory in which we are heading and have detrimental effects on the projects we have in place. Decision making requires a great deal of prior consideration as these have a direct impact on many jobs," he remarked.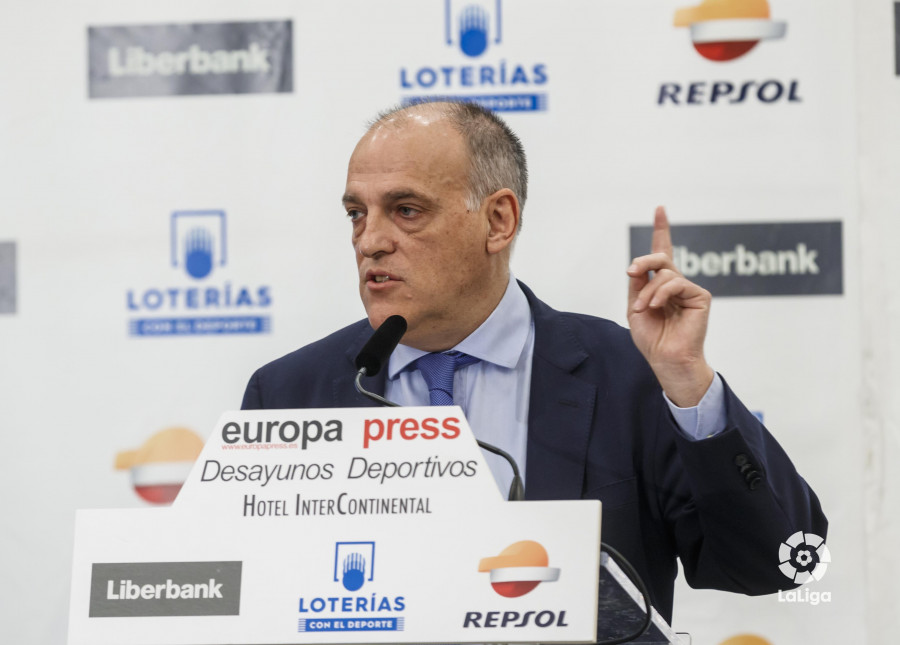 It should be noted that LaLiga's offering is not restricted to football. Since 2015, through its LaLigaSports initiative, it has invested a huge amount of effort into raising the visibility of and giving greater exposure to other 'minority' sports from within Spain. "The successful model of competition management serves as an example for many governments and institutions interested in our collective economic approach," Tebas said.
Broadcasting: The rise of OTT
LaLiga's support of non-majority sports will benefit from exposure through an over-the-top (OTT) Platform, LaLigaSports TV, with which, according to Tebas: "Sports federations can enjoy greater visibility thanks to a unique platform that will allow them to change the traditional model of sports sponsorship."
"By using audio and video broadcasting, as well as providing other content, federations will get a better understanding of their fans. All the data that OTT generates will be theirs and as a result, they'll be able to use it for their benefit," he continued.
The emergence of OTT content providers presents a transformation of the audio-visual market, which Tebas believes will create significant challenges for TV rights models. With specialized operators now entering the world of sports broadcasting, the game has seen a rise of free-to-platforms looking to partner with telecommunications giants and the trend is expected to continue.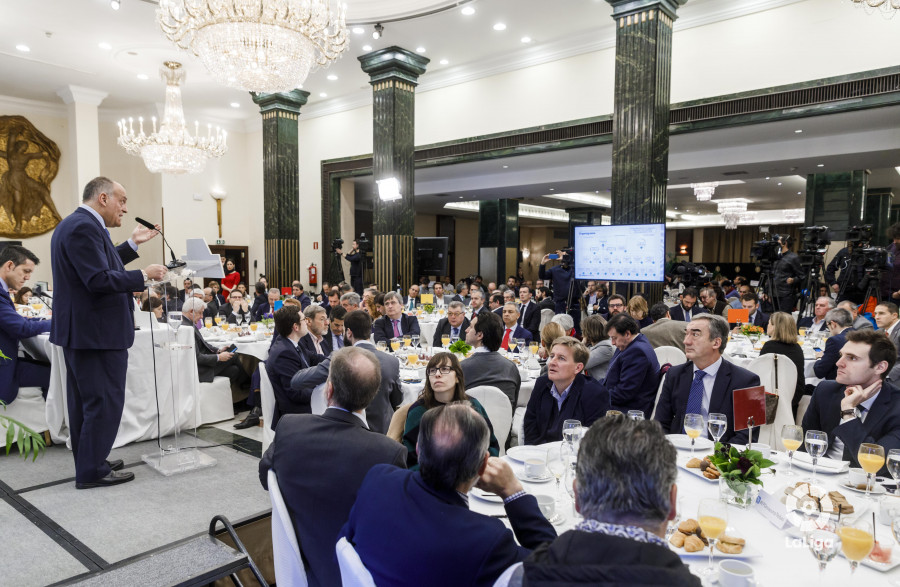 Tebas added that all leagues should be aware of OTT's rise in order to not put existing TV rights deals at risk. He commented: "Any competition that's not prepared for this challenge may suffer a significant drop in the value of their rights. You have to be careful with the decisions that are made. We have to send out these warnings because we know where we've come from to get to this point."
The presentation concluded with a discussion of the wider challenges that the sports industry will need to face at national, European and institutional sports level. In the short to medium term this includes the modification of the Sports Law 10/1990, the regulation of the advertising of online gaming in sporting events, the regulation of advertising of low-alcohol content beverages at sporting events and the law on recruitment of individuals younger than 16.
Tebas reserved his final comments for the ongoing Coordination Agreement with the Spanish football federation (RFEF) and the resolution of naming rights discussions. The President advised that outcome of these issues could have an impact on the value of the industry, concluding: "The RFEF has a scope above LaLiga, but that doesn't mean that the competitions become linked. You have to respect the rules and follow the law."
©

LaLiga

- Año 2019