Girls and women in rural India have traditionally been educated to become mothers, to serve their families and, in some cases, to marry at an early age, but alternative paths are being marked out thanks in part to the power of football, which is helping to challenge these prejudices and to transform the position of women in society and in their communities.
This is being made possible through the Vicente Ferrer Foundation (FVF) and its work with the LaLiga Foundation and the LaLiga women's football department. A new agreement between the two organisations increases the promotion of women's football and helps advance gender equality in rural areas of India, reducing the risks of discrimination or isolation.
Thanks to this agreement, the number of women participating in the FVF youth football programme in the southern Indian city of Anantapur has tripled in the last year. This season, 765 girls between 11 and 19 years have taken part in the football school organised through the foundation's sports programme, while a year ago there were 194 girls enrolled. Overall, female players now make up 35% of the participants in the FVF's programme.
LaLiga's involvement has enabled the programme to provide balls, boots, clothing and other training materials to 20 local clubs in the most disadvantaged communities of Anantapur. Access to this equipment has been decisive in rolling out football programmes in these rural areas, where desire for the game is growing sharply. Local clubs already have teams in six different age categories for boys (from under-7s to under-18s) and three for girls (under-13s to under-18s).
Given that LaLiga Santander matches are now being broadcast for free in India via Facebook, the overall popularity of football is set to grow in the region and the appetite for these kinds of football programmes should increase further.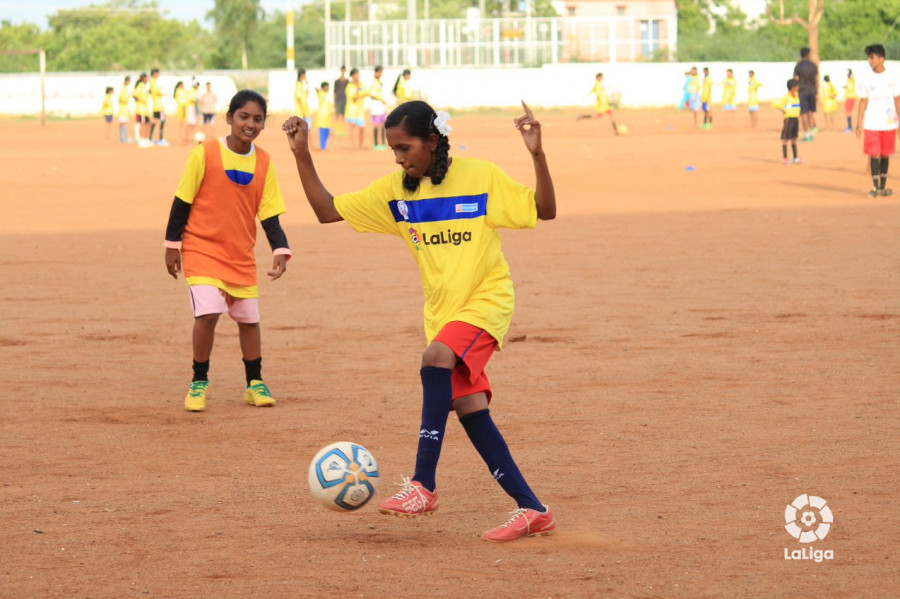 "It is very rewarding to see participation growing so sharply but we know there is more work ahead," Olga De La Fuente, director of the LaLiga Foundation, said.
"Along with our colleagues at the FVF, we are determined to keep growing and to open new doors for many more young girls in rural India through football. By donating equipment, we can help achieve this in a practical way."
A delegation of LaLiga and LaLiga Foundation representatives recently visited the FVF facilities to observe the progress of the programme. They were joined by Real Betis women's captain Irene Guerrero, who took the young players through a technical training session and played in several friendly matches with women's teams from the Anantapur Football League.
In addition, 13 club coaches affiliated with the FVF Sports Academy participated in an exchange with coaches from Liga Iberdrola, the top division for women's football in Spain, where they shared experiences and strategies on the challenges and opportunities of women's football in both countries.
"It's very valuable for the league's coaches and players to create these bonds and to share their expertise with the coaches in India," De La Fuente pointed out. "Furthermore, to have a professional player like Irene Guerrero visit these girls can help inspire them and means they see with their own eyes that women can make a living through football."
Local clubs like FC Sant Vicentí and Sant Cugat FC have already been collaborating for years in the development of women's football in Anantapur, challenging prejudices and teaching the values of discipline, personal improvement and team spirit. The FVF's grassroots programme for girls began in 2008 so there are many experienced minds involved, and now they have further support thanks to LaLiga.
"There are no borders when it comes to the positive impact that football can make on young girls," stated Pedro Malabia, director of women's football at LaLiga.
"Projects like the FVF football programme can inspire youngsters across India and the rest of the world by showing the ability of the game to change lives as well as careers."
©

LaLiga

- Año 2019