Size isn't everything when it comes to football. That's proven by the fact that the Chinese national team has only been to one World Cup, in South Korea and Japan in 2002, where they lost every match and didn't score a single goal. The country's population of 1.4 billion is 30 times greater than the 47 million of Spain, a nation with a surface area one twentieth the size of China's, yet it's Spain that remains a leader in the footballing world. Now, though, Spanish football is helping China realise its footballing potential.
In the past three years, LaLiga and the Chinese government have been working on a project that is helping the Asian nation develop footballers for the future. As part of this, 200 coaches have been sent from Spain to China by LaLiga to help develop the coaching of the sport, with the initiative reaching 30 Chinese cities to date.
"For the country with the world's largest population to back football presents a unique opportunity," Hugo Blanco, LaLiga's Director of sporting projects, said of the partnership. "They want to compete and we can help them to achieve this, while also making the LaLiga brand known."
Building passion for football, the LaLiga way
LaLiga has over 300 Spanish coaches positioned as far away as India, the USA, the Middle East, Indonesia or even the Solomon Islands. The goal is always the same: to develop a passion for football in places where it hasn't always been the most popular sport and to do so through the LaLiga methodology.
The progress made in China has already been significant. As well as training boys and girls from the ages of six to 18, the Spanish professionals are also working in schools to teach local coaches the fundamentals of good coaching. There have been 6,700 coaches and almost 120,000 players trained thanks to the project, while over 20 new coaches will arrive from Spain this year.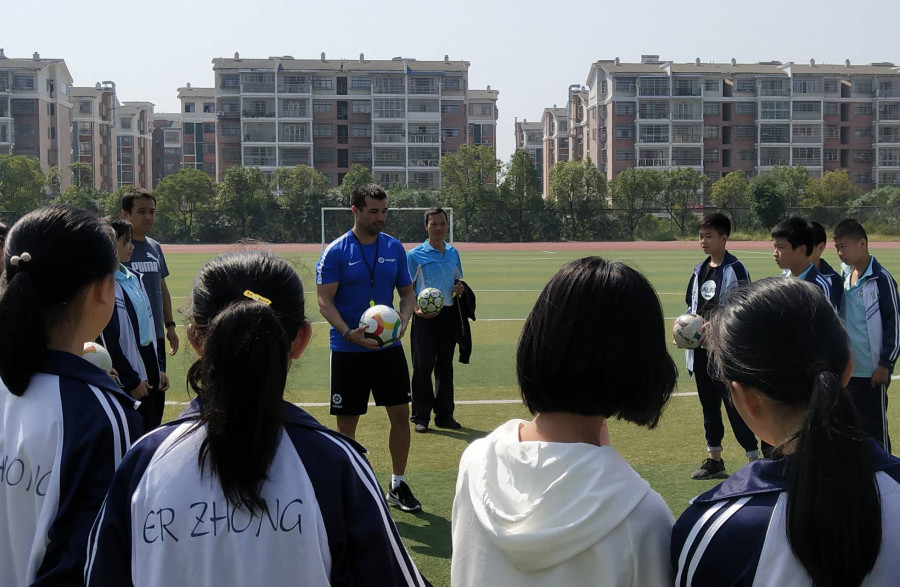 Víctor Campo, a 37-year-old from Zaragoza, had never visited China until he joined the programme two years ago, let alone spoken the language. "It was a unique opportunity," he explained. "The Chinese government and LaLiga were leading the project, so that made me feel confident about it. If you ever need anything then those in charge at the school organise it for you quickly."
For coaches like Campo, the support of the Chinese government, which has taken the decision to include football as part of physical education, has been helpful and commendable. In addition to a salary, the administration has paid for his rent and upkeep. The government also provides all equipment that a coach could possibly need, from balls to bibs to goal frames to cones to sportswear.
"It's incredible," Campo stated. "Every secondary school has an 11-a-side artificial football pitch and an athletics track, while the primary schools have seven-a-side pitches. The organisation at tournaments is impeccable, with ambulances, doctors, referees and assistants all on hand without any issues. You can see that China is really backing football."
Combining the mental with the physical
While the Chinese government provides the state-of-the-art equipment, LaLiga contributes top-class coaching to the initiative. Campo, for example, has two master's degrees, one in secondary school teaching and another in football management and coaching. He is a graduate in physical activity and sports sciences and is a UEFA Pro coach, the highest level.
Before moving to Asia, Campo worked as a head coach, an assistant coach, a fitness coach and a sporting director at clubs in Zaragoza, with both men's and women's teams. Having spent some time working as a scout in Ghana, he also had international experience on his CV before taking part in this project.
Like Campo, José Ángel García, a 34-year-old from Jaén, was an extremely qualified candidate for this work. A graduate in psychology, he is an expert in applying his studies to the world of football and has helped change the mindset in China, encouraging the locals to view football as something of a mental exercise as well as physical one.
"I began by leading a team in Chongming, a rural island in the province of Shanghai," García recalls. "When it came to teaching, the biggest difference was that in China they pay a lot of attention to the physical aspect and to execution, with many repetitions of drills and little related to cognitive thinking. It was great to see how they adapted to LaLiga's methodology. We've brought about a change in mentality and it's undeniable that they're advancing their game because of this."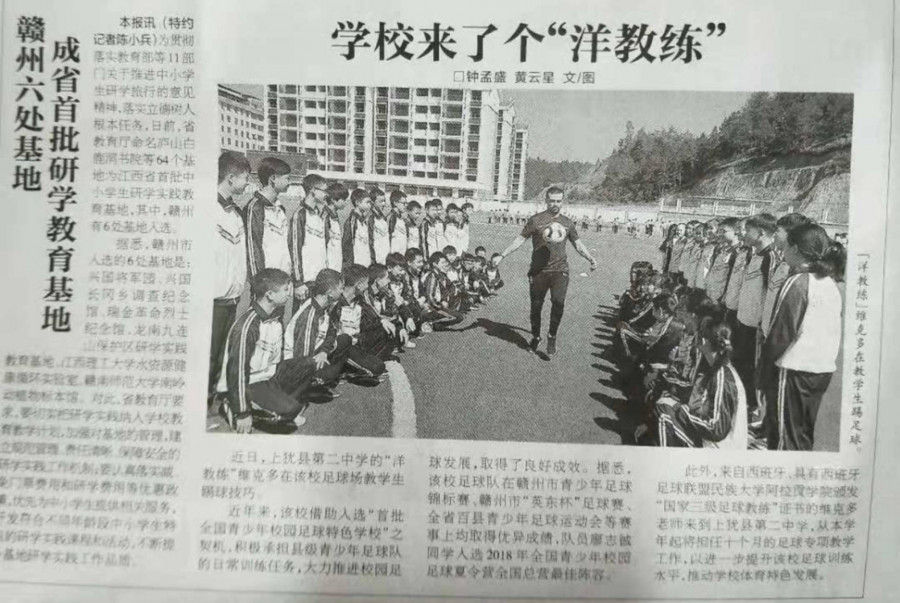 Benefits for players, coaches and Spanish football
As the project continues to grow, all involved parties are seeing a positive impact. The Chinese players, for example, are learning from top-quality coaches and the schools taking part have had success at local tournaments. "The children in the programme are progressing with big steps and are now seen as local or provincial reference points," Blanco pointed out.
"China's football development plan is a long-term project that aims to change the footballing system from the ground up. If they continue in this way then results will come before long, with a strong domestic league and a national team competing regularly at the World Cup."
LaLiga stands to benefit too from its involvement. "We consider this a long-term project that will help expand Spanish football in a huge territory," Blanco explained, while coach Campo pointed out that the seeds of excitement for Spanish football have been planted. "Kids that had never seen a football suddenly had LaLiga coaches and this creates a bond," he said. "They now ask me about Spanish football and have started to follow the competition to get to know it better."
Finally, for the coaches creating this change, the experience has proved to be enriching both personally and professionally. Despite language and cultural barriers, both García and Campo were able to adapt and to settle in.
"I didn't just learn about a country and its customs, culture, food and people, but I also learned a lot as a coach with the backing of LaLiga, which evaluated my work each week," García stated.
"I really value being able to lead a training session on my own now," Campo added. "The players understand me and are using our methods to achieve their goals. It is an experience that will have a huge impact on my future. It has expanded my horizons."
©

LaLiga

- Año 2019