A successful football competition can be judged on a great number of measures. While on-field results grab many headlines, factors such as growth, capital spending, sources of income, operating costs and investment are the real indicators of how it is performing, alongside overall levels of debt.
Against all these different factors, LaLiga's latest financial report has a positive story to tell. Not only have Spanish clubs secured record profits and double-digit growth, they are investing more and more of this money into projects that will secure their long-term future. On top of this, clubs are living within their means in terms of spending, collectively bringing dept to the lowest levels on record.
These figures, which refer to the 2017/18 season, show that clubs in LaLiga Santander and LaLiga 1l2l3 posted record revenues of €4.479 billion, representing growth of 20.6% in just one year.

How clubs have diversified their incomes
These results are not the result of a lucrative new TV deal, as they arrive at the midway point of LaLiga's existing national and international broadcast cycles. Rather, they have been achieved by clubs' ability to find additional income streams, on top of TV revenue.
In particular, commercial revenue and transfer incomes represent a big part of clubs' takings. In 2017/18, there was a 34.1% increase in non-advertising commercial revenue to amount to a turnover of €838m and a 104.3% growth in revenue from transfer fees, reaching €1.018bn.
Commenting on this trend, LaLiga President Javier Tebas said: "The growth we are seeing would not be possible without the growth and stabilisation process which has taken place at the financial level in Spanish clubs over recent years. It has helped us to create the best quality audiovisual product for broadcasters, which has led to a large and growing international audience for LaLiga matches, which prompts sponsors to increase their investment in Spanish clubs."
Of course, money from TV deals remained important to clubs, who earned over €1.5bn through audiovisual turnover for the first time in 2017/18. Through LaLiga's central ownership of TV rights, the distribution of these revenues has become much more even, not only across LaLiga Santander clubs but also in the second-tier LaLiga 1|2|3, which is contributing to and benefitting from financial growth more and more.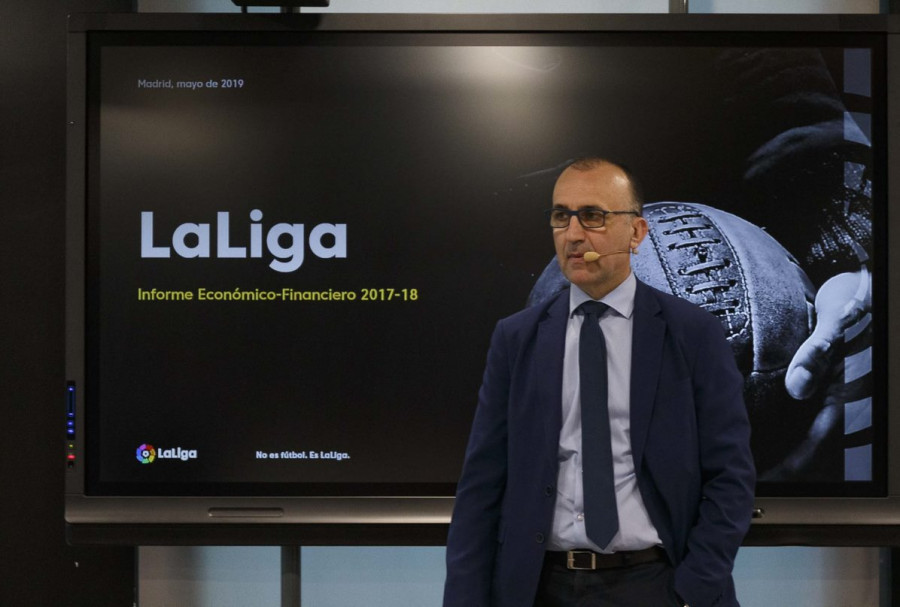 As clubs continue to produce revenue, they are showing a willingness to invest it responsibly.
For example, there has been a significant increase in operating expenses (OPEX) such as staffing costs, up 18.7% to €3.169 billion, while investment intensity (CAPEX) is up 11.8% to €1.341 billion as clubs increase their spending on infrastructure and playing talent, building for the future.
Record high profits, record low debts
This is a boost to the long-term of the Spanish game and has led LaLiga to obtain an overall operating profitability index (ROIC) of 12.3% (15.1% adjusted) in the 2017/18 season, six decimal points higher than the previous year and substantially better than those of other leading sports leagues and competitions.
"From a strong financial footing, clubs have increasingly had confidence to invest in new infrastructure, hire marketing and branding professionals and expand their internationalisation strategies, for example," noted Tebas.
At the same time as all this growth, one crucial metric is going down. Levels of debt are being reduced year on year, helping LaLiga to meet one of its key long-standing objectives. The ratio of financial debt to gross operating profit of the competition was 0.9x for the past financial year, the lowest level on record.
Such efforts have led to clubs recording net profits of €189m for 2017/18, overall the healthiest set of results in LaLiga history.

Contribution to the Spanish economy
The results are a not just a positive for Spanish clubs but Spanish football as a whole, because 2.0% of turnover is earmarked for corporate social responsibility projects. Not only is that already higher than most companies of a similar nature, but the sustained growth of turnover will lead to even bigger contributions in years to come.
In addition to directly assisting with projects such as LaLiga Genuine Santander, the competition for players with intellectual disabilities, LaLiga's profits make a huge impact on Spain as a whole.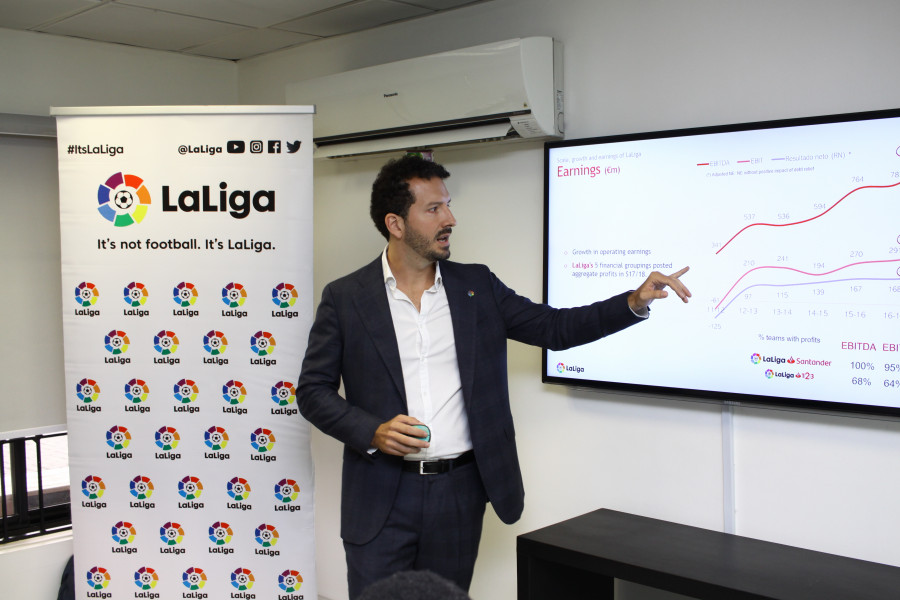 Overall, the professional football industry represents 1.37% of the country's GDP and directly or indirectly employs around 185,000 people, which was 0.98% of the average employed population in Spain over the past year. Considering that this leads to over €4bn in tax contributions, it's clear that Spanish football can support a great many industries as it grows.
"In recent years we have made significant efforts to create a sustainable, long-term business model and these results are an indicator of its success," declared Tebas.
"We also work hard to generate greater value and visibility for LaLiga in international markets, exploring new sources of income and signing new strategic partnerships. This has led to a great many growth opportunities as well as the opportunity of maintaining the strong growth rate of the business."
©

LaLiga

- Año 2019