An independent study by PricewaterhouseCoopers (PwC) on the socioeconomic impact of Spanish professional football has shown that the sport ranks alongside the country's leading industries when it comes to generating wealth and opportunities.
The report found that football now generates 185,000 jobs in Spain, contributes to €4.1B in taxes and has a turnover that is equal to 1.37% of the country's GDP.
Led and presented by PwC's Jordi Esteve and Pablo Bascones, the 'Economic, Fiscal and Social Impact of Professional Football in Spain' report was compiled using the most recent available data from the 2016/17 season. It succeeds the previous report that was based on 2012/13 figures.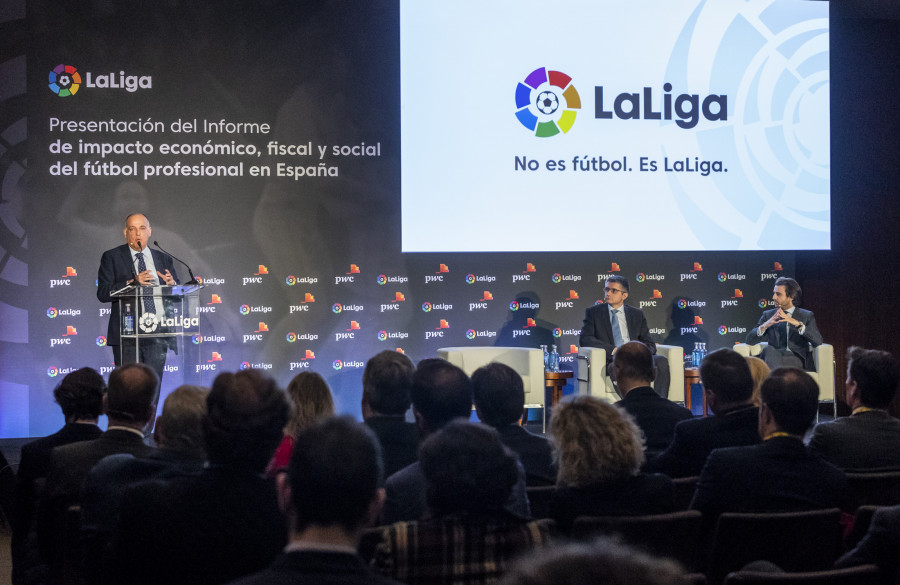 "This confirms the enormous social and economic importance that professional football has in our country and, therefore, the importance of making responsible and well-considered decisions about everything that affects this industry that is so relevant to society," LaLiga President Javier Tebas said of the findings.
The event at which these findings were presented included a round table discussion, featuring Ester Borrás, the Deputy Director of Foreign Promotion at España Global, Emilio Gallego, the general secretary at Hostelería de España, and Ignacio Fernández-Vega, the Content Director at Movistar+.
The report noted that employment has increased by 28% compared to the previous study from four years ago, tax revenues have gone up by 41% and contribution to overall economic activity has doubled.
The contribution to GDP
The total revenue generated by Spain's professional football industry in the 2016/17 season was over €15.68B euros, which is equivalent to 1.37% of GDP. This means that every €1 made by LaLiga went on to generate an additional €4.20 in the rest of the economy.
The contribution to employment
The industry's total contribution to employment in the 2016/17 season was 185,000 jobs, with each job directly generated by LaLiga creating four more in Spain, covering an average of 0.98% of those employed in the country.
The number of jobs generated is very significant compared with other sectors of the Spanish economy. For example, compared with the textile, clothing and leather industry the number is equivalent to 1.2 times the number of people employed in this sector in 2016, or 2.4 times the number of people employed in the manufacturing and metallurgy sectors.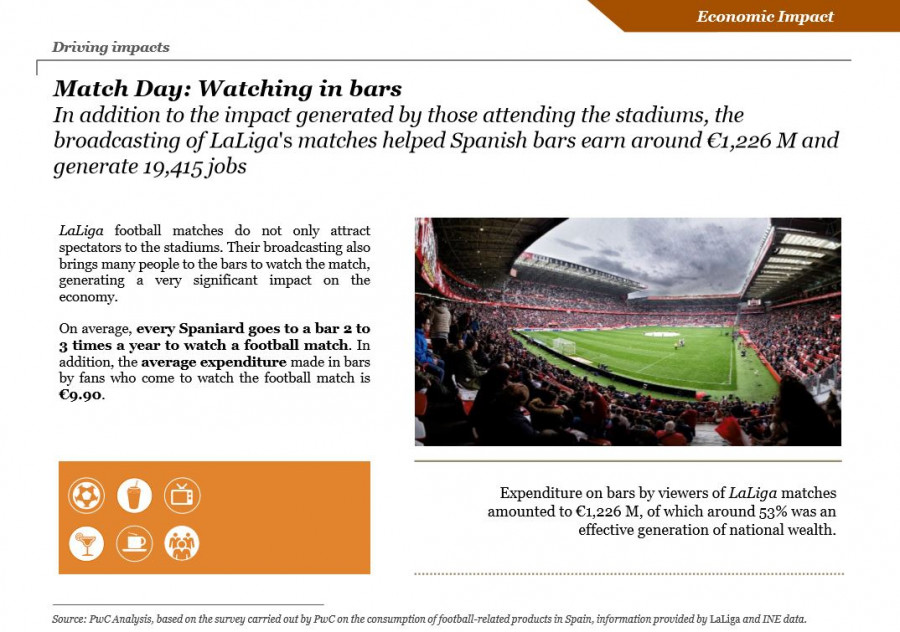 The multiplier effect
LaLiga is also able to generate additional revenue in other sectors of the economy, such as catering, accommodation, bars and domestic tourism. These 'multiplier effects' are worth almost €4B. Of this, €2.398B comes from catering, transport and accommodation surrounding match days. A further €1.23B is generated from audiences watching LaLiga matches in bars across Spain, which has led to the creation of 19,415 jobs.
In houses across the country, many football fans also enjoy matches through subscription TV. According to the report, 58% of Spain's 6.6 million paid-TV subscribers have football included and 41% of them would not be subscribing if football wasn't part of the package.
The social impact
Economic contributions are important but in order to understand the true influence that LaLiga has on Spain, social impact must also be considered. To discover this, PWC carried out a survey of over 800 people to assess what role football has in their day-to-day lives. Of those who took part, 79% said that they believe professional football in Spain has a positive influence on social relationships and almost 70% believe it has a positive effect on their family relationships. These results underline how professional football promotes values such as responsibility, development, integrity, companionship, respect and sportsmanship in Spanish society.
To further accelerate football's positive role in society, LaLiga makes one of the largest contributions to corporate social responsibility projects of any European league. The amount totalled €65.2M in the 2017/18 season.
All of this makes Spanish football something to be proud of, a feeling that the participants of the PWC study seem to share. Over three quarters (78%) of those questioned believe professional football in Spain to have a positive influence on the country's brand, ahead of other sports such as tennis and basketball. This message will be echoed by LaLiga as it continues to grow around the world.
©

LaLiga

- Año 2019