Las Palmas, like many football clubs around Spain, understands the growing phenomenon of eSports and has been keen to get involved. As young people's leisure habits evolve and as a new entertainment industry grows, this focus on video games and eSports can be a force for good in the Canary Islands, developing new skills and bringing people from all kinds of backgrounds together at the same time.
This trend is at the heart of a new initiative by the Las Palmas foundation, which recently began to develop new digital projects related to sports. This has naturally led to a move towards embracing eSports.
"We want to be a vehicle for education and coexistence, especially for younger people," explained Milagros Luis Brito, Director of the UDLP eSports team. "We believe we can use technology to improve integration for everybody, boosting equality, developing new learning tools and strengthening skills in the process."
As club President Miguel Ángel Ramirez has explained, there are two distinct ways in which the institution is embracing eSports. The objectives for each are quite different.
The UD Las Palmas Gaming Community is very much a social endeavour, one that is managed by the club's charitable foundation and that is leading to greater inclusion for people with disabilities. The professional eSports section, meanwhile, is an international project that helps to bring in extra revenue for the club through sponsors.
"The vast majority of those who make up our group are Las Palmas fans, or have been part of the club's youth categories," Brito said of the Gaming Community. "We've discovered that some of these fans have gotten involved because of hopes of developing professionally, while there are others who are searching for social, emotional or competitive inclusion. We can accommodate both within our community."
Alegría, valores, inclusión y mucho aprendizaje en el I Campeonato de #eSportsUnificados celebrado en el día de hoy en el Museo Elder. @eSports_UDLP @UDLP_Fundacion @UDLP_Cantera @FundacionLaLiga @fundacionTef pic.twitter.com/o5u0NT9BZd

— UD Las Palmas (@UDLP_Oficial) March 16, 2019
Whichever path community members take, Las Palmas remains committed to maintaining a friendly environment, which is why all those taking part must accept their 'Gamer Ten Commandments', a set of guidelines for proper conduct and responsible behaviour, with no toxic, sexist or xenophobic attitudes permitted.
One of the most important achievements by the group so far has been the creation of the eSports Centre, a place for training and competitions to take place. "As much as this community is a digital one, there's also a need for meeting spaces to share projects and proposals face to face and to make friendships," explained Brito.
The club struck an agreement with the Elder Museum Foundation, the only technological museum that exists in the Canary Islands, to find a site for the eStadium. It was here that the first 'eSports Derby Canarias Cup' took place between Las Palmas and Tenerife, on the same matchday as the LaLiga 1l2l3 derby between the region's two professional clubs.
As rival clubs have been working on eSports projects for a number of years, Las Palmas knew it had some catching up to do. It has therefore taken inspiration from national sides like Valencia and Alcorcón and also international teams such as Schalke 04 and Manchester City. "We aim to grow responsibly, which means looking at and learning from what has happened at other institutions and trying to avoid mistakes," pointed out Brito.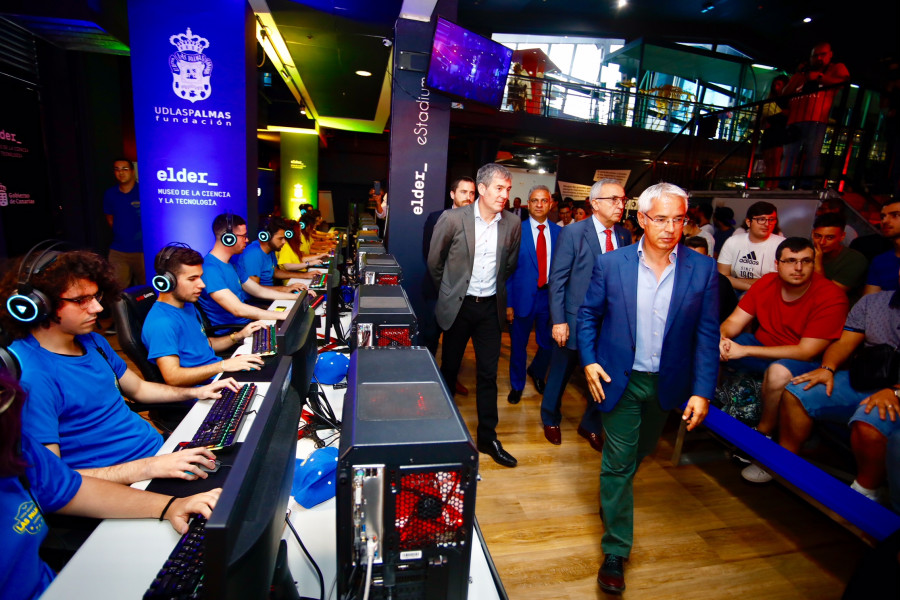 The early signs are positive as, Las Palmas already has some of the most respected names in the business representing them. One of which is Kilian Pita Ossorio, known in the eSports world as Zidane10. "I arrived to play in the youth categories and it has always been a pleasure to represent Las Palmas and to take the club as far as possible," he said. "It's nice that the players feel backed by the club and it's nice to represent the team from your area.
"There is a good atmosphere and closeness with the directors. It's a family."
The player recently won the 'King of the Hill' title in the Virtual LaLiga eSports Santander competition and the fact he is bringing success to the club after having started out as a youngster shows that Las Palmas' approach to youth development is bearing fruit.
Speaking about the LaLiga eSports competition, Zidane10 adds: "The project of LaLiga seems to me to be the best one because as well as professionalising competitive game playing they also give you the opportunity at a national and international level to reach the final stages. That's something to be thankful for, because they don't have national championships in other countries."
It's clear that in a short space of time Las Palmas has already built an impressive eSports programme, one that develops talent, promotes social values and brings in revenue. This is a matter of pride for Brito and her colleagues.
"There is a special demand for digital consumption and we can't hide the fact that virtual sports can be a strong economic factor that is linked to new niches and employment," she said. "We like to think that we offer excitement and talent."
©

LaLiga

- Año 2019