Video assistant referee (VAR) technology is one of the most talked-about developments in global football over recent years. It provides a new way to help referees make more accurate decisions, but like all technology, success depends on how well it is implemented and understood.
LaLiga has seen the importance of VAR since it was approved for experimentation by the International Football Association Board (IFAB) in early 2016. Since then, it has led a unique training programme that has involved workshops, studying other leagues, simulations for referees and communications with clubs, media and fans.
The programme is unlike anything that has taken in place in Europe to this point and remains available to any club, league or official that wants to study the technology better. In recent months, FIFA and the English Premier League have examined how LaLiga's deployment of VAR could be replicated in their own competitions.
There is good reason for other competitions to study LaLiga's approach. With refereeing accuracy jumping to 98.8% this season, after the introduction of VAR, it's clear that the methods are quickly proving their worth.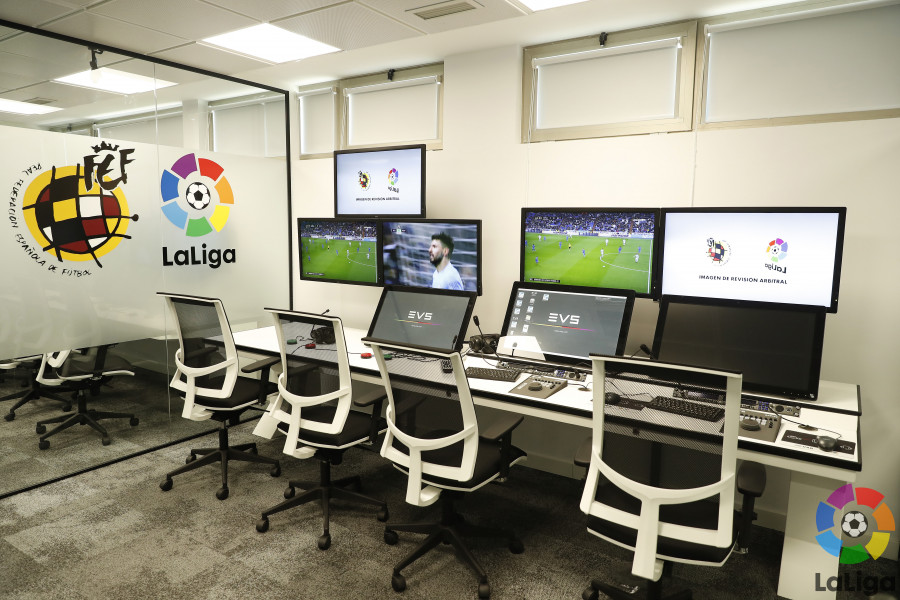 "The key to VAR success is transparency and communication", said Sergio Sánchez Castañer, Technology Director for LaLiga's VAR project. "From the first day we knew that it could be a success in Spain but not before we brought all of the stakeholders together to understand the aims of VAR and how to use it. We convinced the Spanish federation (RFEF) and IFAB of this which I think is key to the results we are seeing today."
The approach taken by LaLiga can be described in three steps:
Observation: As leagues such as Serie A, Primeira Liga and MLS began using VAR from 2017, LaLiga visited matches to study its usage and viewed live demos from the leagues. This helped it to identify the strengths and weaknesses in how the technology was being used. Shortly after, it agreed with RFEF and IFAB that LaLiga would begin using VAR in the 2018/19 season and that a new kind of referee training was needed.
Practical training: Working with its TV partner Mediapro, LaLiga set up a training studio for referees that allowed them to study and use VAR in live match scenarios. Using footage from matches in Italy or Portugal, referees could put themselves into the heart of the action and make decisions in real-time, rather than only studying the rules of VAR. Referees spent several months practising with VAR at this studio, ending with a month of study during the FIFA World Cup 2018 where the technology was in constant use. This was the first time that a European league had offered this level of training, helping referees to develop a better understanding of how to make a VAR request, locate and use cameras, and deliver their final decision.
Communication: Before VAR was introduced, it was important that clubs and the general public knew how it was going to be used. To help this understanding, the league organised media days in Madrid and Barcelona, briefing over 145 journalists about the rules of VAR and show them the training that was available. Clubs were provided the same information during training visits held over the summer of 2018. During the first match day of the season, LaLiga also distributed 750,000 flyers on the seats the stadiums, explaining the key details of VAR to fans. This was accompanied by a web page that provides a series of videos to explain the technology in simple terms. Information from these pages has been widely shared on social media by both the league and LaLiga clubs.
After its first six months in LaLiga, VAR has proven to be a measurable success. As well as the rise in overall refereeing accuracy, data collected by LaLiga reveals that VAR has led to the successful correction of 59 incidents during league matches, from 2,280 incidents that were reviewed. Further, the average time to decide using VAR was just 60 seconds, as referees put their extensive training to good use.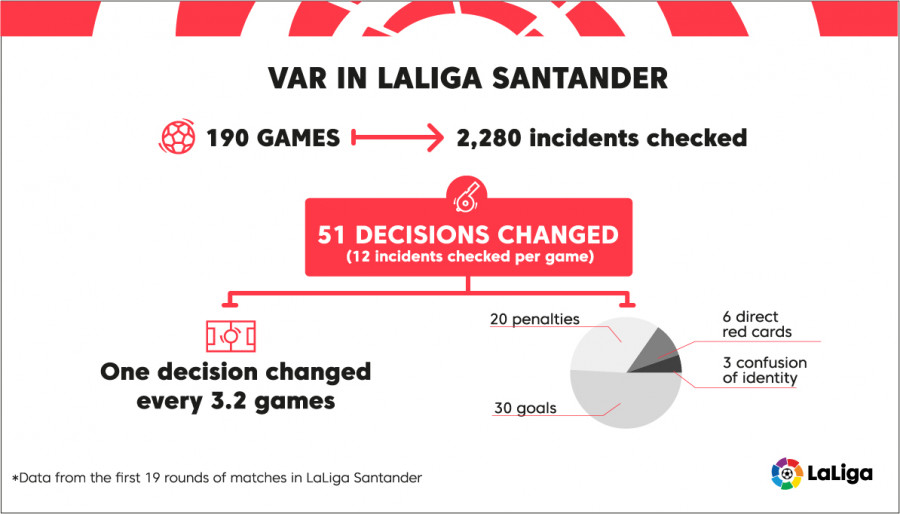 Success stories like these are having a positive affect across the footballing world, with UEFA recently approving the use of VAR during the knockout stages of the Champions League. Within the coming years almost every major football league is expected to implement VAR technology.
"We are here to help lead the implementation of VAR across world football," added Sánchez. "Incorporating technology in the right way can only help the quality and accuracy of the game."
VAR is likely to undergo many developments in the next few years as it becomes more commonplace within football. In Spain, LaLiga is beginning the rollout of the technology in its second division, LaLiga 1l2l3, helping clubs to adapt the cables in their stadiums and create the best possible link to the video operating room (VOR). The latest camera technology will be installed within the stadiums to help provide the clearest image in the least amount of time. LaLiga's close link with TV providers also allows for VAR incidents to be shown to fans on stadium screens as the referee is deciding. Optional for the clubs, LaLiga expects more sides to make use of this technology in an effort to increase transparency to the public.
©

LaLiga

- Año 2019